~
Over the past decade, I have done ethnographic, historical and pedagogical research as to the current state of affairs for everyday meal preparation in the United States. This research challenges current assumptions about who cooks, who doesn't, and what this means for culture, cuisine, and health.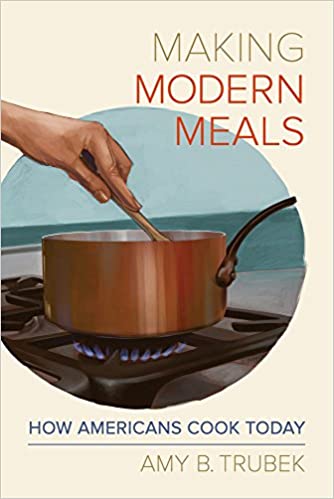 Making Modern Meals was published by University of California Press (2017). The book explores the state of American cooking over the past century and across all its varied practices, whether cooking is considered a chore, a craft, or a creative process. This book is the result of many years of ethnographic and historical research (including assistance from several excellent UVM graduate students; a shout out here to Anthony Epter, Alyssa Nathanson, Shauna Henley and Caitlin B. Morgan).
In the book, I locate, identify, and discuss the myriad ways Americans cook in the modern age, and in doing so, argues that changes in making our meals—from shopping to cooking to dining—have created new cooks, new cooking categories, and new culinary challenges. The research and findings played a crucial role in the development of the Food Agency pedagogy.
I also collaborated with other researchers interested in the results of teaching about meal preparation in the Foods Lab.
In 2019, Maria Carabello and I published the chapter, Teaching to Cook and Learning to Sense in Food Education, in the edited volume,

Making Taste Public: Ethnographies of Food and the Senses.

In 2016, Cynthia Belliveau, Teresa Mares and I published the article,

Emergence and Repetition: Teaching Food and Culture Using a Foods Lab

, in The Journal of Pedaogogic Development.
Finally, I have written about the rising importance of meal kits (a result of a wonderful collaboration with UVM undergraduate Addie Cummings). 
Interested in learning more?
To learn more about this work, you can contact Amy Trubek (atrubek@uvm.edu)