About our Program:
Our team includes specialists at UVM in Pediatric Cardiology, Dr. Flyer and Dr. Haxel, Pediatric Psychology, Dr. Hughes Lansing, and Pediatric Cardiology Nursing, who are working to build better support programs for families navigating a fetal congenital heart disease (CHD) diagnosis. Our first step in our program development is learning more from our families about their experiences. Read on below to learn about our current study and advisory committees as well as find resources for navigating a fetal CHD diagnosis and accessing support for perinatal mental health.

---
Fetal CHD Experience Study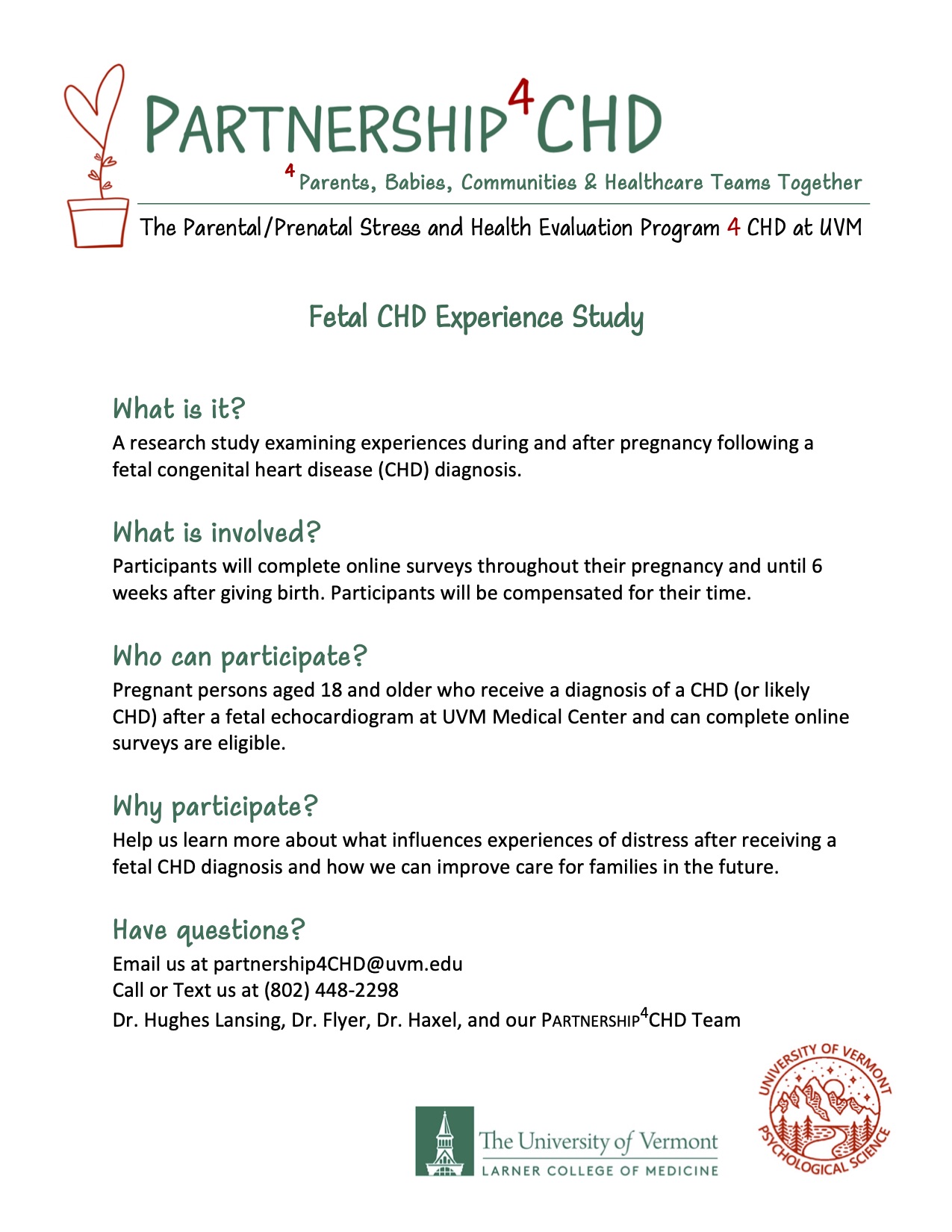 ---
Families living with CHD- Community Advisory Studios
If you are a family with a child with CHD or who had a recent experience with fetal CHD diagnoses and would like to participate in community advisory events with our team, please email us at Partnership4CHD@uvm.edu. We expect to host more community advisory studios with our families with lived experience in Winter 2023!
---
Resources for Families with a Fetal CHD Diagnosis

Fetal CHD Learning Online:
https://chdcarecompass.com/

Perinatal Mental Health Resources:
Vermont Perinatal Health Resources
https://www.healthvermont.gov/family/pregnancy/PMADs

General Mental Health Resources:

Howard Center First Call for Crisis Support: 802-488-7777

Associates in Psychology: Located at 92 Adams Street in Burlington, VT. Phone: 863-6114
Cedar Brook Associates: Located at 4185 St. George Road, Williston, VT. Phone: 879-5333
Crossroads: Located at 15 Pinecrest Drive, Essex Jct., VT. Phone: 288-1087
Howard Center for Human Services: Located at 208 Flynn Avenue, Suite 3J in Burlington, VT. They work with adults for both crisis and counseling services. Phone: 864-7777
Ginger MacDonald: Located at 899 Main Street, Suite 1 in Colchester. Phone: 8281-4248
Mansfield Psychotherapy Associates: Located at 3 Main Street, Suite 216 in Burlington, VT. Phone: 863-9079
MindBody Medicine Clinic: Located at UVM-MC, UHC Bldg., 6th Floor, 1 So. Prospect St., Burlington, VT. They work with chronic plan mostly in a group setting. Phone: 847-2673
Networks: Located at 149 Cherry Street in Burlington, VT. Phone: 863-2495
Northwestern Counseling: Located at 107 Fisher Pond Road in St. Albans, VT. Phone: 524-6554
Otter Creek Associates: Several locations including Burlington, Essex and Williston, VT. Phone: 865-3450
Elena Ramirez: Located at 595 Dorset Street, Suite #2, So. Burlington, VT. Phone: 651-8999 x. 2
Vermont Psychological Services, 2 Colchester Ave., Burlington, VT. Phone: 656-2661

Trauma-Related Issues
Janice Murakami: Located at Associates in Psychology, 92 Adams Street, Burlington, VT. Phone: 863-6114
Couples
Barbara Boutsikaris: Located at Family Works, 47 Maple Street #205, Burlington, VT. Phone: 233-0162
Cedar Brook Associates: Located at 4185 St. George Road, Williston, VT. Phone: 879-5333
Crossroads: Located at 15 Pinecrest Drive, Essex Jct., VT. Phone: 288-1087
Mansfield Psychotherapy Associates: Located at 3 Main Street, Suite 216 in Burlington, VT. Phone: 863-9079
Networks: Located at 149 Cherry Street in Burlington, VT. Phone: 863-2495
Northwestern Counseling & Support Services: Located at 107 Fisher Pond Road in St. Albans, VT. Phone: 524-6554
Mark Rubin: Located at Dolan House, 156 College Street, Suite 201, Burlington, VT. Phone: 651-7512
Addiction/Substance Use
Day One: Located at UVM-MC, UHC 3rd floor, 1 So. Prospect Street, Burlington, VT. Phone: 847-3333
Howard Center for Human Services: Located at 208 Flynn Avenue, Suite 3J in Burlington, VT. They work with individuals for counseling and medical services for these struggling with substance abuse. Phone: 864-7777
McGee House: Located at 30 Washington Street, Rutland, VT. Phone: 773-5124
Networks: Located at 149 Cherry Street in Burlington, VT. Phone: 863-2495
Serenity House (Residential Treatment): Located at 98 Church Street, Wallingford, VT. Phone: 446-2640
Valley Vista (Inpatient Treatment): Located at 23 Upper Plain, Bradford, VT. Phone: 222-5201
Refugee Services
Community Health Centers of Burlington: 617 Riverside Avenue, Burlington, VT 05401. Phone: 864-6309
Kevin Figueroa: Located at 86 St. Paul Street, Suite 213, Burlington, VT. Phone: 739-0058
Howard Center for Human Services: Located at 208 Flynn Avenue, Suite 3J in Burlington, VT. Phone: 488-6400