Our Research
---
Five of the six leading causes of mortality in the US remain potentially preventable through behavior change (CDC, 2017). Inadequate empirical precision in conceptual models of health risk behavior engagement and failures to continuously optimize multicomponent biobehavioral interventions in real world contexts contribute to the limited success of behavioral medicine interventions. The goal of our research is to address these limitations in improving health in youths and families by:
Identifying complex biobehavioral and biosocial systems that support health behavior regulation in youths' and families' daily lives to create empirically precise conceptual models
Optimizing scalable and pragmatic biobehavioral and multi-level interventions to improve access to health promoting interventions for youths and families at greatest risk
Testing advanced technologies and methods that facilitate the development of empirically precise conceptual models and interventions for youths and families.
---
Identifying Empirically Precise Conceptual Models
of Health Behavior Regulation Systems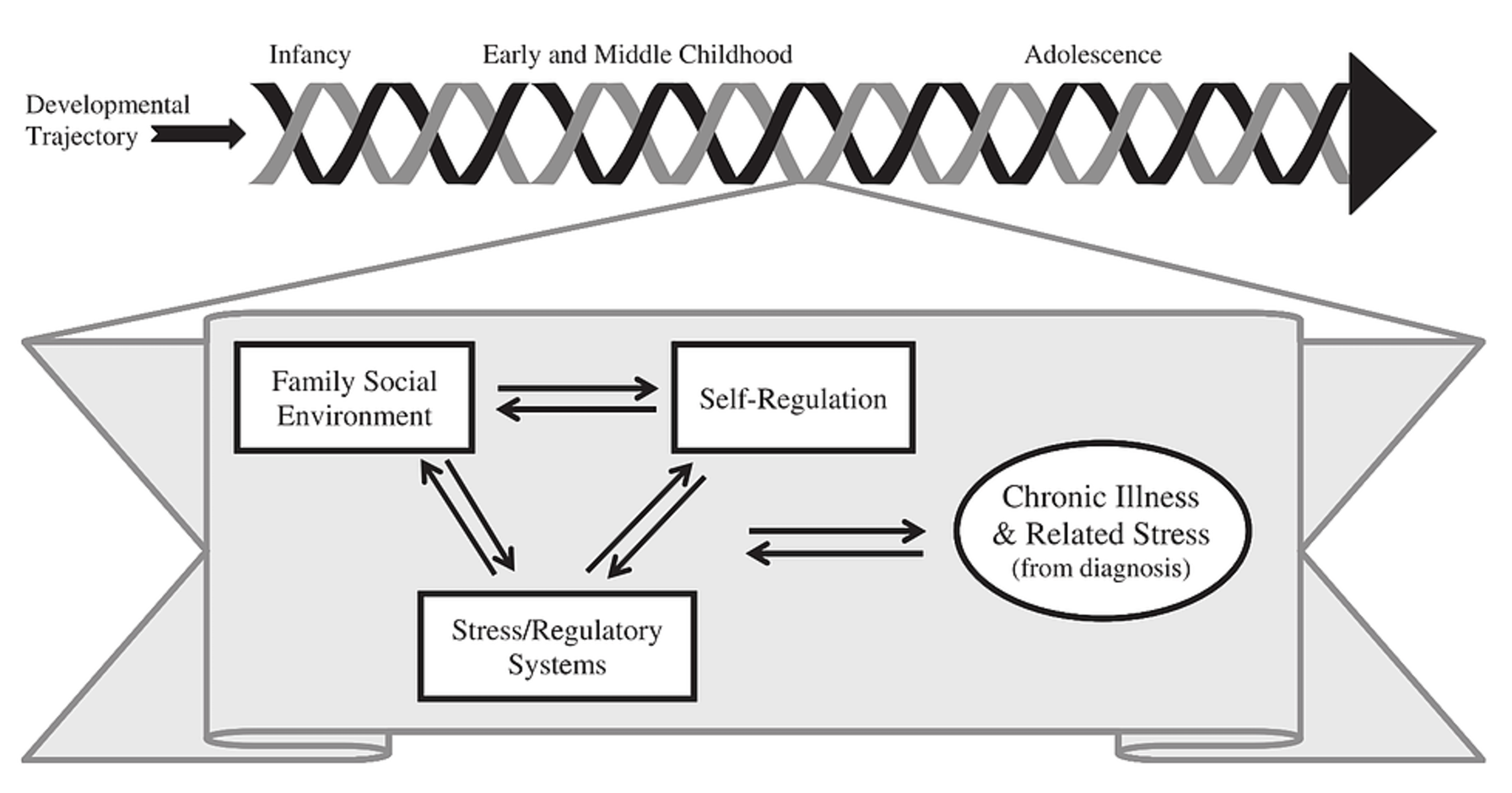 Our research follows the Multiphase Optimization Strategy (MOST; Collins, 2020) with an emphasis, first, on specifying and testing empirically precise conceptual models of daily health behaviors in youths and families. We are particularly interested in embracing complexity, adopting an interdisciplinary systems and micro-analytic approach to investigating biobehavioral and social mechanisms that undergird daily health behavior regulation in youths and caregivers. Our research approach involves conducting neural, psychophysiological, behavioral, and ecological momentary assessments to identify core biobehavioral systems (e.g., inhibitory control, reward processing, habit learning, stress) that support daily health behavior regulation in youths. Within family dyads we use mobile psychophysiological sensing and ecological momentary assessment to model emotion and behavior co-regulation in the context of chronic health conditions.
---
Multiphase Optimization Strategy (MOST) for
Biobehavioral Intervention Development
Aligned with MOST, we then develop and test scalable and pragmatic multicomponent interventions—primarily technology-delivered interventions—that allow us to target identified biobehavioral and social mechanisms of change in real-world contexts. This research includes testing the benefits of technology-delivered physical activity and contingency management interventions on reward processing and inhibitory control as well as online interventions targeting cognitive (e.g., working memory, mindfulness training) and social systems (e.g., family-based contingency management; community programs) involved in chronic condition management. We engage in continuous optimization testing of intervention component packages in order to maximize both potency, for preventing health risk behaviors and improving health-related quality of life, and sustainability in our health systems. Most of this work focuses on adolescents and emerging adults (11-26) and their caregivers, but sometimes we also work with younger children and pregnant families.
---
Current Projects
*Testing a technology-delivered intervention to increase physical activity in teens with type 1 diabetes

*Examining predictors of health promoting behaviors in young adults with chronic pain

*Developing models of care for perinatal support following fetal congenital heart disease diagnosis
Recent Projects
*Examining self-regulation, automaticity, and diabetes management in adolescents with type 1 diabetes
*Testing a pragmatic online self-guided intervention model to improve social support, relationship health, and parenting skills in families of children recently diagnosed with type 1 diabetes
*Testing highly scalable mindfulness-based intervention as a tool for reducing diabetes distress in teens with type 1 diabetes and their families
*Exploring dynamical systems approaches to developing, testing, and evaluating adaptive and personalized public health interventions
*Examining daily self-regulatory processes that affect daily blood glucose levels in teens with type 1 diabetes through electronic daily diaries
*Examining neural substrates of behavior regulation and habit formation that are associated with management of type 1 diabetes in adolescence
*Examining daily arousal, context, and substance use in adolescents that use cannabis
*Examining the effects of a text-based incentive program on self-regulatory capacity indexed via fMRI and increased exercise and healthy eating behaviors (via accelerometer and youth reports) in youth who are overweight or obese
*Examining a pilot multicomponent web-delivered intervention targeting self-regulation (via cognitive training, motivational and cognitive behavioral therapy, and incentives) and social processes (via parent training) in youth with type 1 diabetes and above-target glycemic levels