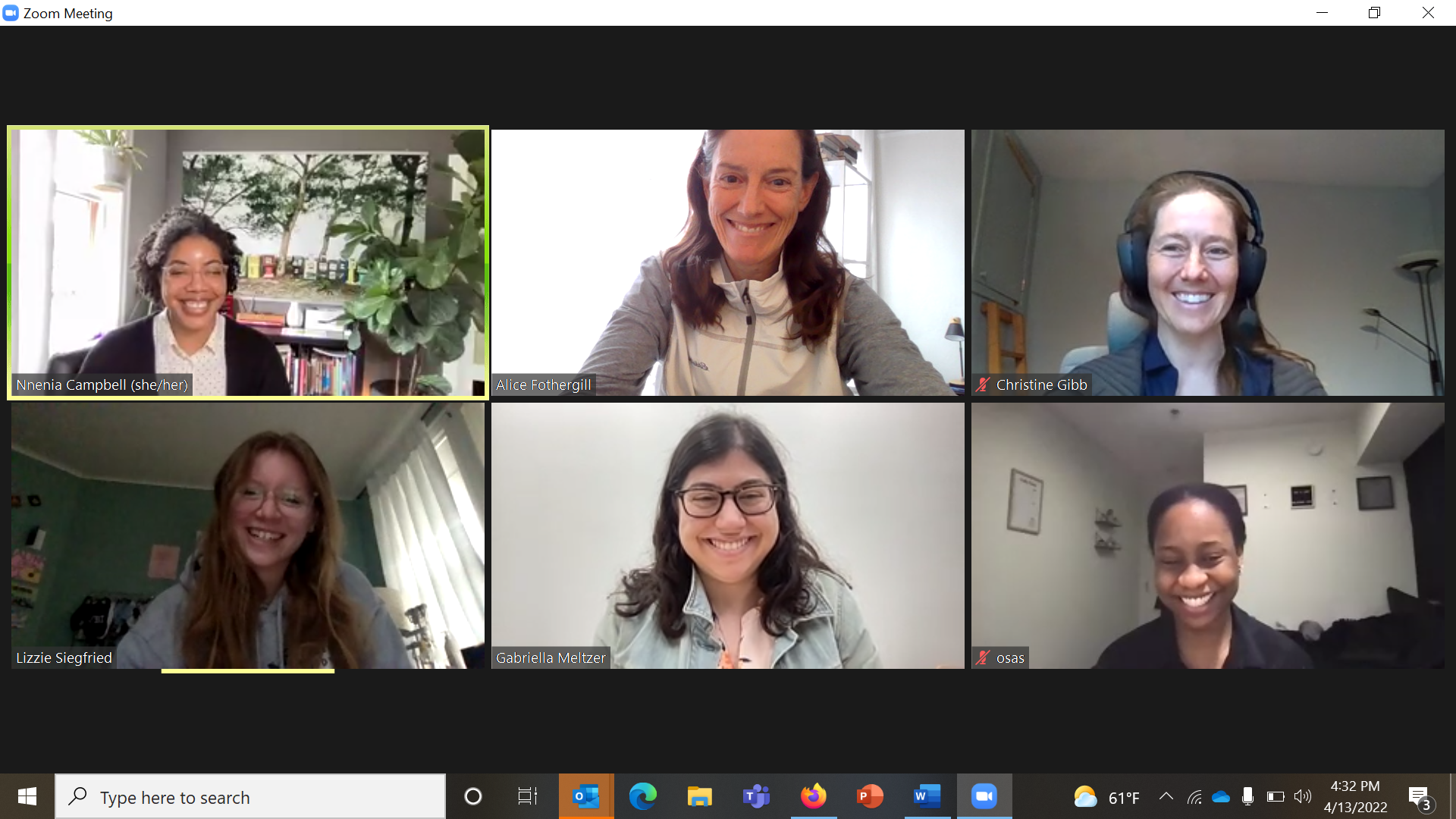 We are a team of researchers from Canada and the United States: Dr. Christine Gibb (University of Ottawa), Dr. Nnenia Campbell (University of Colorado), Dr. Gabriella Meltzer (Columbia University), and Professor Alice Fothergill (University of Vermont). Above we are having a team meeting on Zoom with our student research assistants, Osas Iyalekhue (University of Ottawa) and Liz Siegfried (University of Vermont) in Spring 2022.
Please see bios below of our core research team.
Who We Are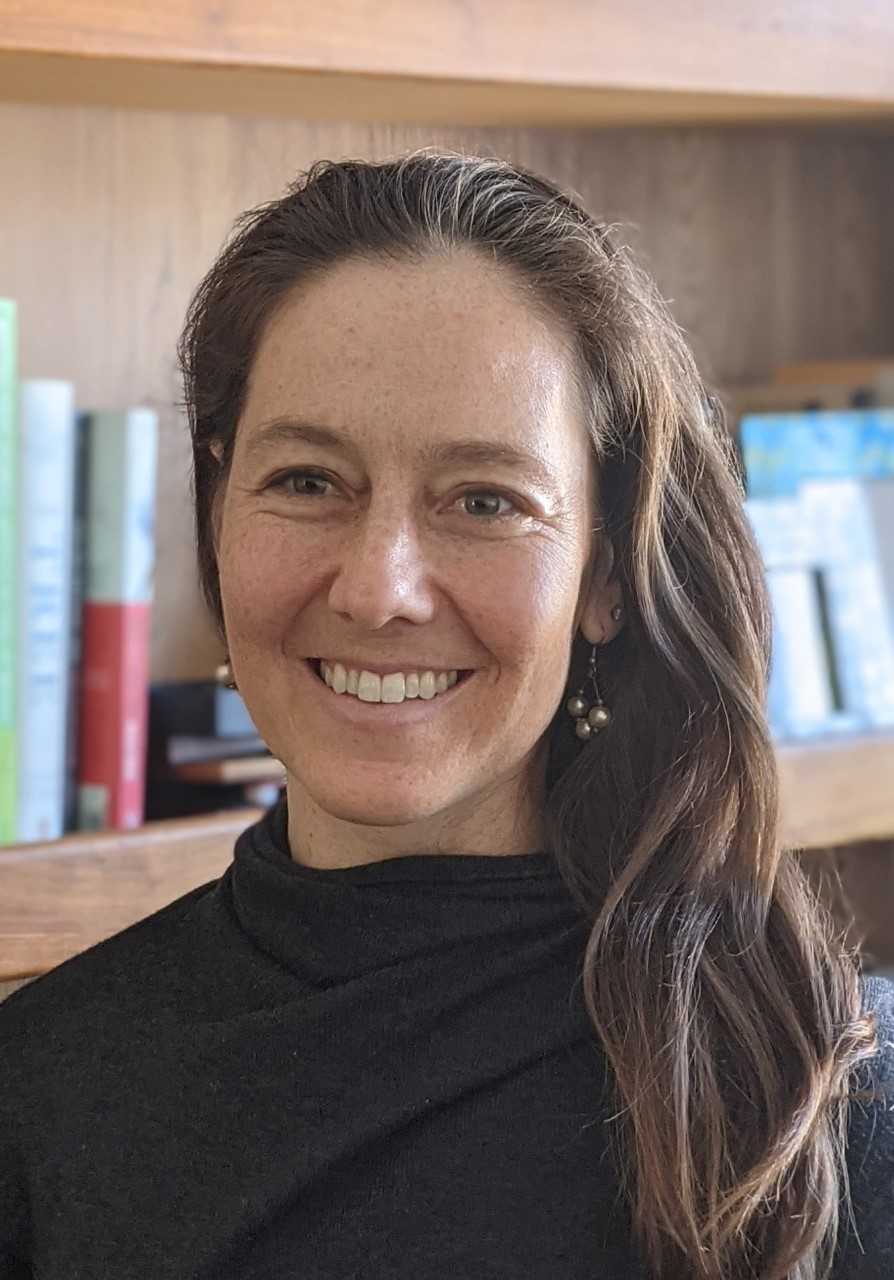 Dr. Christine Gibb
Christine Gibb is an Assistant Professor at the School of International Development and Global Studies at the University of Ottawa. Her research focuses on environmental migration, in particular the experiences and im/mobilities of disaster survivors and the institutions that govern post-disaster spaces. She has an interdisciplinary background, which includes studies in geography, capacity development and extension, international development and biology. Her research interests are shaped by these and other experiences within and beyond academia. Her current work is focused on the ways in which gendered religious practices, institutions and norms determine access to disaster assistance in Southeast Asia. Her past research projects have been based in Kenya, Ghana, the Philippines, Canada and the USA. Outside academia, she has worked as a consultant for several United Nations agencies and NGOs on environment, development, and youth education issues.
Pronouns: she/her/elle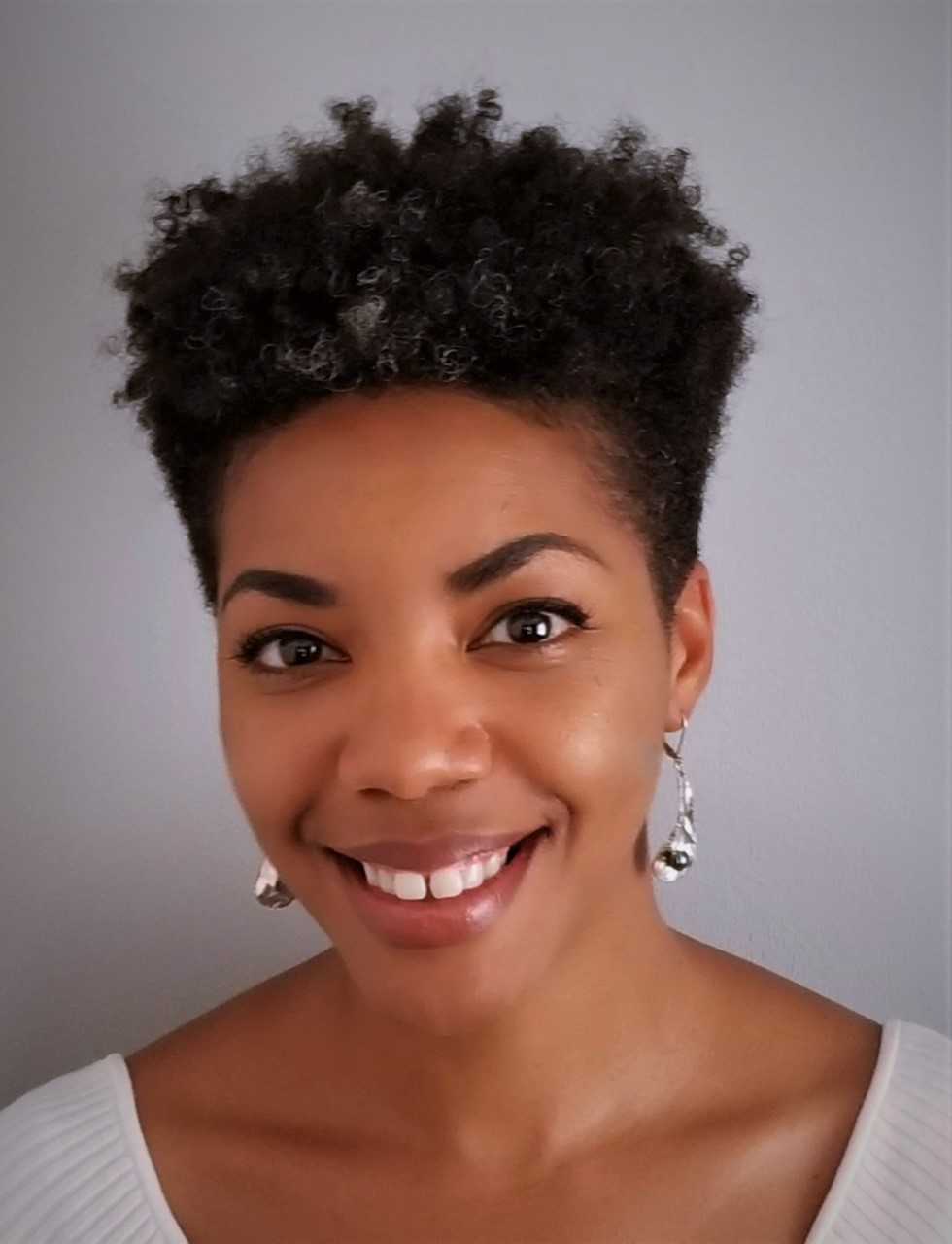 Dr. Nnenia Campbell
Dr. Nnenia Campbell is Deputy Director of the Bill Anderson Fund (BAF), a research associate at the Natural Hazards Center at the University of Colorado Boulder, and Co-founder of the Collaborative for the Social Dimensions of Disasters. A sociologist by training, her work straddles the worlds of research, program development, and evaluation. Her work with the BAF supports inclusion and leadership among historically underrepresented minorities pursuing doctoral degrees in fields related to hazards and disaster research and practice. Her research centers on the intersections between social vulnerability and resilience, particularly among marginalized communities facing environmental hazards, as well as the roles that community-based organizations play in supporting disaster response and recovery. Campbell is passionate about using research and program evaluation to facilitate evidence-based practice, particularly through disaster preparedness planning and capacity-building activities. Her recent projects develop guidance for decision-makers related to COVID-19 and concurrent disasters as part of the Societal Experts Action Network coordinated by the National Academies of Sciences, Engineering, and Medicine and examine disaster planning and response among community-based service providers that are simultaneously grappling with the impacts of the pandemic.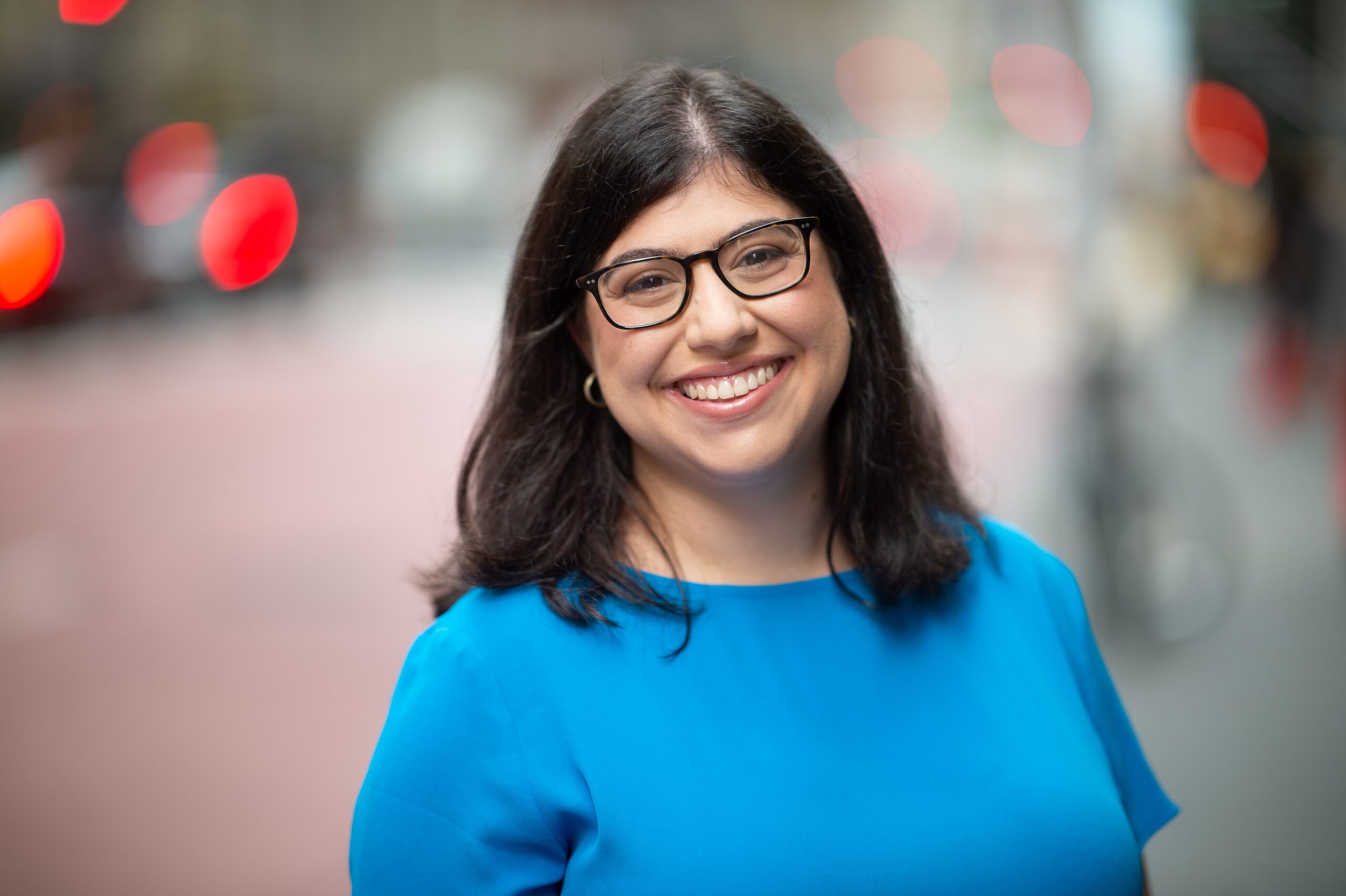 Dr. Gabriella Meltzer
Gabriella Meltzer is a postdoctoral research fellow in the Department of Environmental Health Sciences at Columbia University Mailman School of Public Health. She received her PhD in public health from NYU's School of Global Public Health under advisement from faculty in the Center for Public Health Disaster Science. Her research interests explore how community-level environmental stressors—ranging from natural hazards, technological disasters, biohazards, and industrial pollution—create and exacerbate health disparities at critical and sensitive periods of the life course, including infancy, childhood and adolescence, pregnancy, and old age. Prior to NYU, Gabriella received her BA in Health and Societies from the University of Pennsylvania and was a Global Health Research Associate at the Council on Foreign Relations. 
Pronouns: she/her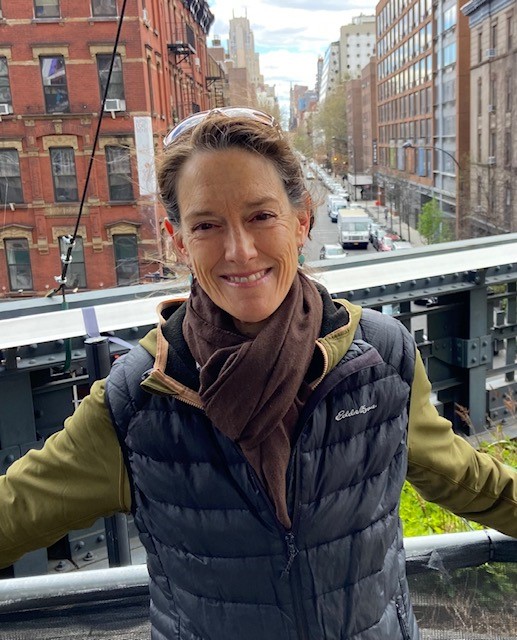 Dr. Alice Fothergill
Alice Fothergill is Professor of Sociology at the University of Vermont. She studies disasters, children, inequality, and vulnerability. She is an editor of Social Vulnerability to Disasters, first and second editions, and the author of Heads Above Water: Gender, Class, and Family in the Grand Forks Flood, which examines women's experiences in the 1997 flood in Grand Forks, North Dakota. Professor Fothergill and her co-researcher, Professor Lori Peek, conducted a longitudinal study on the experiences of children and youth in Hurricane Katrina, which resulted in the 2015 award-winning book, Children of Katrina. She has conducted research on volunteerism in the aftermath of the September 11, 2001 terrorist attacks in New York City, mothers' challenges in academia, and the culture of childcare centers in Ohio. In the aftermath of Tropical Storm Irene in Vermont in 2011, she took her UVM students into devastated Vermont communities to help with recovery efforts. In 2017, Professor Fothergill was a Fulbright Fellow in New Zealand, examining disaster preparedness for childcare centers, and in 2022 she was a visiting scholar at the Center for Public Health Disaster Science at New York University (NYU). Originally from Washington, D.C., she was a research associate at the Hazards Center at the University of Colorado, and then a faculty member at the University of Akron. Professor Fothergill joined the UVM sociology faculty in 2003, and lives in Williston, Vermont with her family.
Pronouns: She/her