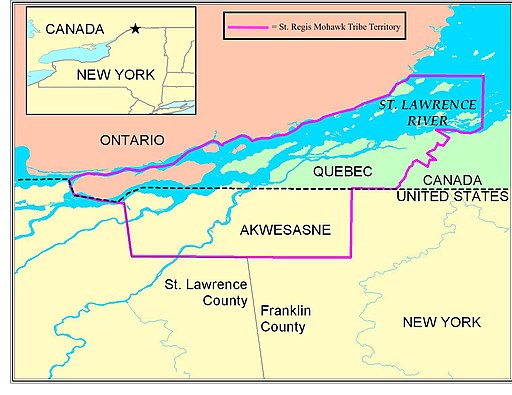 Related Publications
McRae, Kim Ellen, "Effects of PCB Contamination on the Environment and the Cultural Integrity of the St. Regis Mohawk Tribe in the Mohawk Nation of Akwesasne" (2015). Graduate College Dissertations and Theses. 522.
Ecological Restoration of an Indigenous Community on the US-Canadian Border
More Info:
Saint Regis General Motors Superfund Site
IEDS doctoral scholar Kim McRae is conducting this study following a memorandum of understanding between the St. Regis Mohawk tribe and UVM. The Mohawk Nation is a transnational Native American community that has been exposed to significant levels of environmental toxins called polychlorinated biphenyls (PCBs). These hazardous chemical pollutants have been directly linked to toxic emissions from a nearby manufacturing facility. In the early 1970s General Motors (GM) built a die casting plant adjacent to the Mohawk Nation of Akwesasne reservation. Two other manufacturing plants were also built in the area during this period: Alcoa (Reynolds Metals) and Domtar, a pulp and paper mill located on the Canadian side of the St. Lawrence River. The toxic emissions from the GM plant created toxic sludge and chemical lagoons in and around the manufacturing facility.
The proposed research question for the project is: What has been the comparative impact of environmental policies in the United States and Canada in restoring fragmented habitats and remediating toxic hazardous waste in the Mohawk Nation? Permission to conduct the research has already been obtained from environmental leaders in the Mohawk Nation. A detailed ethnography of the community will be coupled with a review of environmental impact studies and archival research of data on environmental indicators such as habitat condition. Regulations and environmental policy measures at the local, state/provincial and federal levels will lay the foundation for an analysis of public policy across borders.
This inquiry will also require an in depth study of the attitudes, values, and beliefs of St. Regis Mohawk Tribe members with regard to the social and environmental disruption that has occurred, in addition to examining the views of other related stakeholders and policy actors involved in this discourse. Identifying potential barriers to the development of new and innovative transnational public policy solutions for local environmental problems will be a primary focus of the research, since these complex social and environmental problems will invariably be decided in the public policy domain.