Global climate change is perhaps the biggest threat humanity has faced, and time is quickly running out to prevent it from irrevocably changing our world. At IEDS, we believe that bold, cooperative action on a global scale is needed to solve this crisis, which is why we engage in climate diplomacy.
Projects

Vermont proposes to support physical, human and cyberinfrastructure improvements in the state's research infrastructure with a transdiciplinary research theme of adaptation to climate change that integrates the interactions of climate, environment, society and land use policy.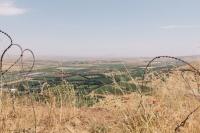 Transboundary Water In-Cooperation Network (TWIN) is a network of grassroots organizations, academic & scientific institutions, and individuals sharing a vision of Our mission is to strengthen and mobilize existing organizational networks that work locally, nationally and globally towards 'equitable and reasonable' sharing water resources across borders.
Vermont EPSCoR was awarded a Research Infrastructure Improvement (RII) Track-1, $20M award on June 1, 2016 for research on Lake Champlain Basin Resilience to Extreme Events (BREE).